March 4, 2021
Ten cool features of the Resch Expo
Green Bay Press-Gazette story
10 cool features of new $93 million Resch Expo that 'will be the heartbeat of the district'
Green Bay Press-Gazette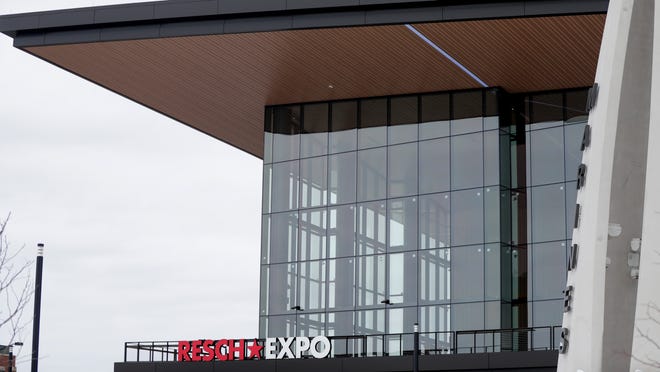 ASHWAUBENON - The new Resch Expo has dramatically transformed the corner of Lombardi Avenue and Oneida Street, bringing with it not just 266,000 square feet of space for trade shows, concerts, conventions and meetings but something else — energy.
The $93 million building takes the liveliness that greets visitors as they turn off Interstate 41 and travel down Lombardi past the Titletown District and Lambeau Field and extends it to the east. What was once a hard stop in that momentum when visitors arrived at Oneida and the 1950s-era Brown County Veterans Memorial Arena is now a catalyst for future growth.
"This truly will be the heartbeat of the district," said Ryan Freeland, architect and lead designer for the project and an associate principal with Kahler Slater in Milwaukee. "There's going to be more energy around the district, which is going to help the businesses and tap into Titletown. It's going to actually help the Packers and Lambeau not just on game day, but on nonevent days over at Lambeau."
The building has hosted a handful of trade shows since opening in January but won't truly hit its stride until the postpandemic return of large gatherings. PMI Entertainment Group, which manages both the Resch Expo and the adjacent Resch Center, is brainstorming ideas for how to creatively use spaces beyond just the main hall, including the plaza, balcony and second-floor spaces with killer views of Lambeau Field. with killer views of Lambeau Field.
As visitors wait for more opportunities to see the building for themselves, the Green Bay Press-Gazette went on a tour with PMI and talked with Freeland about some of its standout features.
1. The roof is part of the wow factor.
When your neighbors are Lambeau Field, the Don Hutson Center and the Resch Center, you have to make an equally big statement. The Resch Expo uses its eye-catching roof to complement the scale of the surrounding structures and give a nod to the entertainment district as a whole. Follow the lift, or the slope of the roof, and where does it point you?
The dramatic slope also makes space for larger windows on the southwest corner of the building that look out at the stadium — "our oceanside view of Lambeau," as Freeland calls it. The overhang lets in the ambient light but also helps shade the interior from direct sunlight.
2. Floor space for as far as the eye can see.
There's 125,000 square feet of space in the exposition hall and not a single column. It's so vast that, the first time Matt Goebel of PMI Entertainment Group walked in the east end, he could barely make out if there was a person standing on the opposite end.
It's also a reminder that the previous footprint of Brown County Veterans Memorial Arena, with a hodge-podge of add-ons over the years, including offices, Shopko Hall and its connector and the Green Bay Packers Hall of Fame, didn't maximize the land it sat on.
"It was years of just kind of little developments not overly planned for the larger venue," Freeland said. "Getting to the 125,000 square feet was key from a regional venue standpoint. It puts them in a different level of venue that they can now go after all sorts of events that they weren't able to do before."
Some events will be so big, like the Great Lakes Logging & Heavy Equipment Expo scheduled for 2022 and 2024, that they will use both the Resch Expo and Resch Center. The continuous floor design from one building to the next means visitors can move freely between the two spaces by simply opening a door.
3. Presto chango. It can go from one big hall to three smaller ones.
The main hall can be divided into thirds with movable walls. That allows Hall A, Hall B and Hall C, each roughly 42,000 square feet, to function separately with their own event office, restrooms, concessions, ticket office and large overhead load-in doors. (Each even has its own bay and floor drain for washing boats before they can go on the display floor.)
With three individual spaces, an event in one hall can be torn down while another is being set up and another is in progress. That's a luxury that wasn't possible with Brown County Veterans Memorial Arena and Shopko Hall, Freeland said, and it will allow the new building to host a far greater number of events.
4. A few words about all those windows.
Not only are there a lot of them, but they use a low-iron glass that eliminates much of the green cast in some windows. The idea was to provide as much clarity in the glass as possible so people outside the building can clearly see what is going on inside, Freeland said. What better way for the building to promote itself than for people to be able to see the fun happening inside?
From the inside looking out, the plentiful light makes the space feel warm and inviting. It's especially noticeable on the second floor, where couches, tables and chairs are meant to be places for people to step away from the main hall and enjoy the "creature comforts" of smaller areas.
"One of the driving design statements early on in the process was where nature meets industry, so we wanted to bring natural light into the space as best we could. We wanted to bring warm tones and wood. We wanted to tap into the whole region and the whole idea of Wisconsin and trees and lumber and the northern climate," Freeland said.
"A perceptual warm space for people to come in in the winter months and feel warm. Even though it's the frozen tundra outside, it still feels safe and warm to experience whatever event you're there for."
5. Some of those windows are doors — and they open.
Expo halls are typically what Freeland calls "black boxes" — controlled spaces with no natural daylight. That's what makes the Resch Expo windows along Oneida Street so unusual.
Not only do they open up nearly the entire west facade of Hall A and give passersby a view into the events inside, but some of them open. There are four large glass panels that open like a garage door for events that may want to spill out onto the sidewalk.
Those same windows also come with an energy efficiency perk. They supply enough light that an event can be set up or taken down without having to turn on electrical lights, Freeland said.
6. The plaza is key to 'outdoor expo experience.'
The site has an additional 100,000 square feet of space for the "outdoor expo experience" the village of Ashwaubenon and PMI requested as part of the design, Freeland said. The plaza can accommodate up to 10,000 people for concerts, if used in conjunction with the Resch Center's Bart Starr Plaza and if Armed Forces Drive is closed to traffic. It also will host smaller summer music events, Packers game day festivities and other gatherings.
"It's a pretty hard-working space in that regard," Freeland said. "It had to feel intimate enough where you could find a spot to sit with just a friend or a spouse as you're walking through, but it also had to be able to accommodate a couple hundred RVs or a game day experience, where you have maybe a VIP experience on the balcony, you have the Bart Starr Plaza tailgate and that can start to bleed into in front of the Resch Expo."
7. There's prime people-watching up on the balcony.
With Lambeau Field across the street and the throngs of fans that head up Armed Forces Drive on Packers game days, the balcony overlooking the plaza and Oneida Street will be a prime perch. PMI expects to use it for VIP parties.
"On game day, you can imagine how great this spot will be," Goebel said.
Heated concrete and drains eliminate the need for snow removal.
8. Talk about your (really) big screens.
At 42 feet tall and 22 feet wide, the video board that overlooks the plaza feels like a bit of the Las Vegas Strip has been dropped in on Ashwaubenon. It will be more than just a flashy place to promote upcoming events at the Resch Complex.
Exterior video boards are beginning to show up as a way to organize events outside venues, including sports arenas and outdoor shopping centers, Freeland said. The one at the Resch Expo can be used for a wide variety of programming, such as leading a large outdoor yoga session, showing bands playing on the plaza or hosting a World Cup watch party, he said.
The building's other digital sign, the horizontal one at the corner of Lombardi and Oneida, is 75½ feet long and 10 feet high.
9. The one thing that has not changed at that location: Brown County Veterans Memorial.
The monument, dedicated in 2003, still stands tall along Armed Forces Drive and anchors the plaza in front of Resch Expo. It was virtually untouched during the construction. It did, however, get a good cleaning.
"For the most part, we set a new stage for the memorial," Freeland said.
Inside the Resch Expo, a new immersive veterans wall with touch screens and more than 12 hours of rolling footage will be unveiled during a dedication ceremony at a time still to be determined.
10. The old arena is gone but not forgotten.
The building that stood on the site from 1958 to 2019 is remembered with "A Walk Through History" collage. Photos and placards on a second-floor wall commemorate moments in the building's history, including visits by such notables as John F. Kennedy, Gerald Ford, Elvis Presley and Johnny Cash.
You can learn things like how the Packers Hall of Fame originally began as a display in the concourse of the arena in 1966 and was the first hall of fame created to honor a single NFL team. It came with a directive from Vince Lombardi: "Don't screw it up!"
Meet the architect
Ryan Freeland is the architect and lead designer of the Resch Expo. He was working at Populous, an architecture and design firm in Kansas City, Missouri, when he and his wife, a Brookfield native, decided to move back to Wisconsin to be closer to family after the birth of their second child. He joined Kahler Slater in Milwaukee as an associate principal in August 2018 and had his first workshops on the Resch project, in partnership with Populous, in November of the same year.
He has worked on several high-profile projects, both public and private, including Allianz Field, the St. Paul soccer stadium that's home to Minnesota United FC, and Deep Space, a five-story underground auditorium in Verona. He said the Resch Expo is career highlight.
"I think if we get 'wow,' we're succeeding," he said of the project. "For me, good architecture creates a memory, and I think if you have an experience that creates a memory and brings you back and we can help facilitate that, we've done our job."