July 27, 2021
Concerts on the Resch Plaza
Green Bay Press-Gazette story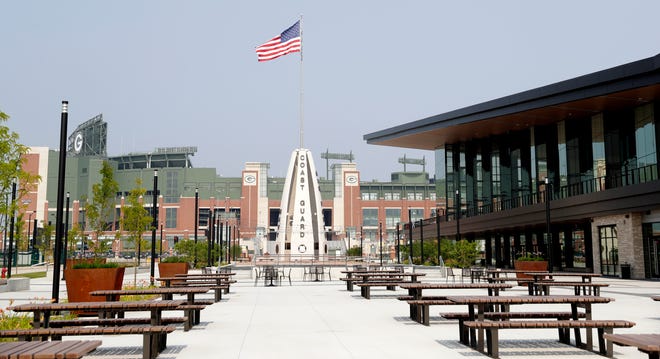 Concerts on Resch Plaza will be a whole new experience. Here's what you need to know.
Green Bay Press-Gazette
ASHWAUBENON - The $93 million Resch Expo opened its doors in January, but the summer party outside on its sprawling plaza officially begins Friday night when Chase Rice sings "Eyes on You" and "Drinkin' Beer. Talkin' God. Amen."
The country artist will be the first act to play the outdoor space across from Lambeau Field and is one of three Resch Plaza concerts on the calendar through August. The Avett Brothers and The Doobie Brothers will also help break it in.
It'll be a new experience for northeast Wisconsin concertgoers, so to prepare, we asked PMI Entertainment Group, which manages the Resch Center, Resch Expo and Resch Plaza, to help guide us through how it will all go down.
Consider this a general template for Resch Plaza concerts, but remember there may be tweaks as PMI fine-tunes operations going forward or makes adjustments for specific acts.
What will the layout look like?
The stage will be set up mid-plaza outside of the Resch Expo, in front of the new outdoor space's raised cement platform. It will face east toward the Resch Center arena, with Lambeau Field and Brown County Veterans Memorial as the backdrop for concertgoers.
Capacity is about 8,000. Crowds will be able to extend as far back as Bart Starr Plaza in front of the Resch Center and spill onto Armed Forces Drive, which runs parallel to both plazas. The space behind the stage will be considered "back of house" and will have restricted access.
So Armed Forces Drive will be closed?
Yes, the street will be closed to traffic during concerts. Because there's a Green bay Packers practice at 10:10 a.m. Friday at Ray Nitschke Field, just across Armed Forces Drive from the Resch Complex, the street will close beginning at 8 a.m. the day of the Rice concert.
What can I bring in with me?
All concerts are general admission standing. No lawn chairs are allowed. Also prohibited: umbrellas, food and beverage carry-ins, blankets and pets (except service animals as defined by the Americans with Disabilities Act).